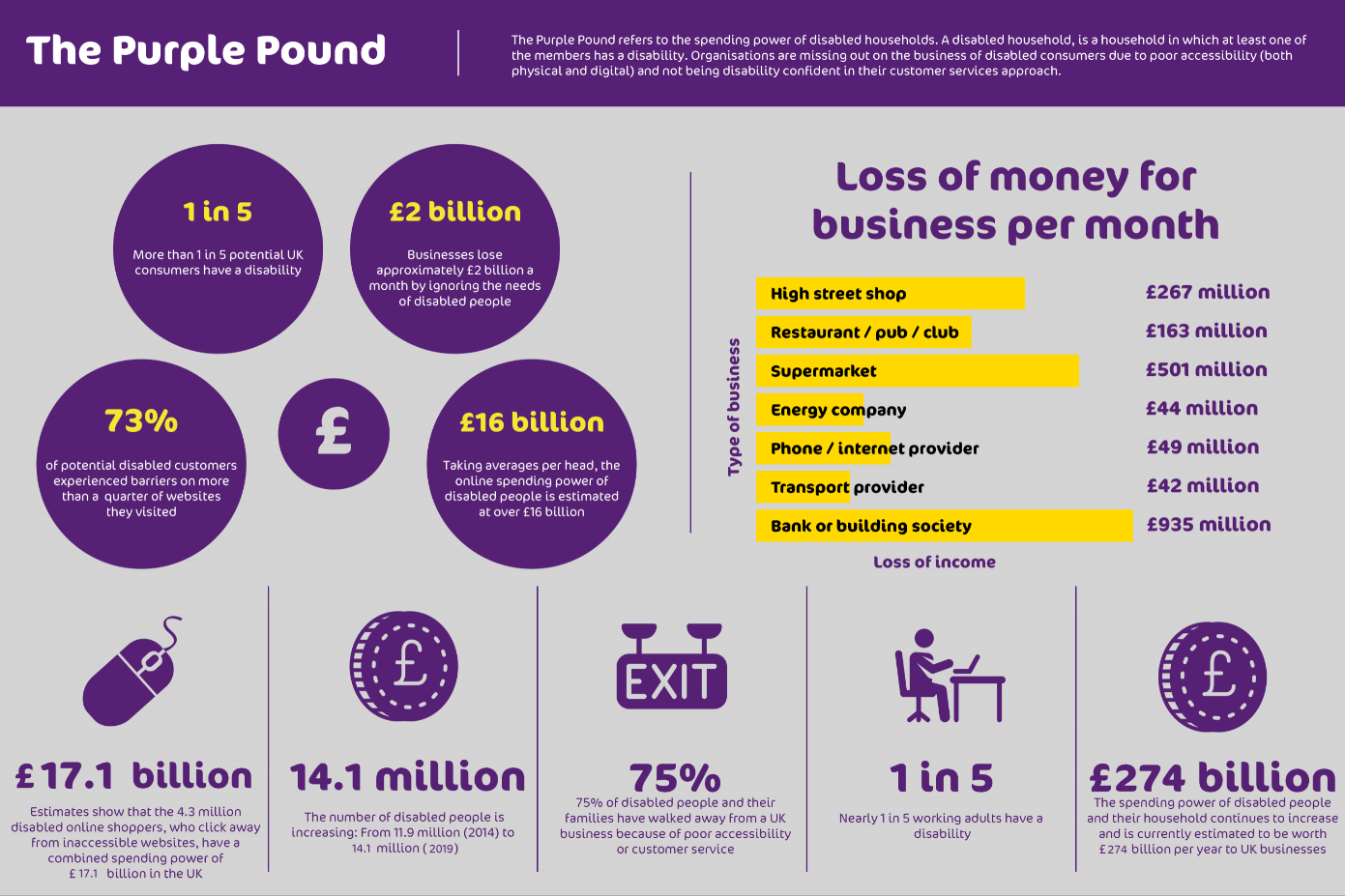 The Purple Pound refers to the spending power of disabled households. A disabled household is a household in which at least one of the members has a disability. Organisations are missing out on the business of disabled consumers due to poor accessibility (both physical and digital) and not being disability confident in their customer services approach.
1 in 5 – More than 1 in 5 potential UK consumers have a disability.
£2 billion – Businesses lose approximately £2 billion a month by ignoring the needs of disabled people.
73% – 73% of potential disabled customers experience barriers on more than a quarter of websites they visited.
£16 billion – Taking averages per head, the online spending power of disabled people is estimated at over £16 billion.
£17.1 billion – Estimates show that the 4.3 million disabled online shoppers, who click away from inaccessible websites, have a combined spending power of £11.75 billion in the UK.
14.1 million – The number of disabled people is increasing: From 11.9 million (2014) to 13.3 million (2020).
75% – 75% of disabled people and their families have walked away from a UK business because of poor accessibility or customer service.
1 in 5 – Nearly 1 in 5  working adults have a disability.
£274 billion – The spending power of disabled people and their household continues to increase and is currently (2020) estimated to be worth £274 billion per year to UK business.
Research has shown how various sectors lose money each month by not being accessible. A breakdown can be found below:
High Street Shops – £267 million
Restaurants/Pubs/Clubs – £163 million
Supermarkets – £501 million
Energy Companies – £44 million
Phone/Internet Providers – £49 million
Transport Providers – £42 million
Banks or Building Societies – £935 million