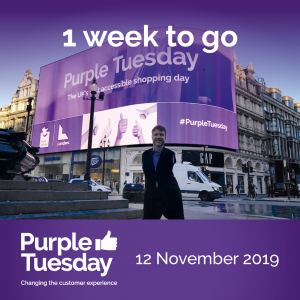 What have Microsoft, Fullers, Regatta, Sky, Bespoke Hotels and Cadbury Outlet shops got in common? In the last seven days they have registered to participate in Purple Tuesday.
All these organisations have joined almost 2,000 other participants in making commitments which improve the customer experience for disabled people and their families. All of them are building from activities and experiences already existing within the organisation.  And all recognise that even small changes to people's experience can make a huge positive impact.
With seven days to go we are on course to make this the biggest and best Purple Tuesday. Crucially participants are signing up to a stretching set of commitments which can be delivered and embedded 365 days a year. Trending commitments include: staff learning hello and goodbye in British Sign Language; adopting the 'Not all disabilities are visible' signage; an accessibility audit of website and other digital platforms; and the formalisation of quiet hours.
I don't like to single out organisations when there is so much good stuff going on, but I will make an exception to demonstrate some key points.
The White Horse in Dorking is emblematic of all the things for which Purple Tuesday stands.  As part of the hotel's renovation they decided to modernise their accessible rooms. Why? Because they are passionate about injecting delight and joy into the look and feel of their facilities for their disabled customers. The case study has shown a demand for these rooms. These rooms have delivered £6,900 additional revenue versus standard rooms on a like for like basis. The commercials stack up on their own.
Purple Tuesday, and Purple itself, have stood on the stump (excuse the Election jargon!) making the case disability is a commercial opportunity and not just a good thing to do.  The White Horse has shown why others should simply follow suit.
To make small changes involves engaging your staff as they exemplify your brand to disabled customers.  Blakemore Retail have 281 stores and 4,300 of their staff have and will be trained in customer service for disabled people via an e-learning module they have created.  A real whole organisational approach to taking staff with you as they each transform the experience of their customers.
If you haven't signed up to Purple Tuesday it is not too late.  To register takes no more than five minutes (www.purpletuesday.org.uk/get-involved/).
As my six-year-old son cheekily said to me this morning as we drove to school: "Dad, it's seven sleeps to Purple Tuesday!".
Mike Adams OBE
November 2019